Projects for Peace; Social Media Ambassador; Grad Student Feature; and Hong Kong Meets Mainland China Podcast
December 2019
Dear Alumni & Friends,
Greetings from Berkeley! We are delighted to share a peace-building initiative, highlights from some of our current residents, and the latest episode of the "From All Corners" podcast series.

Projects for Peace was created in 2007 through the generosity of Kathryn W. Davis, a lifelong internationalist and philanthropist who died in 2013 at 106 years of age. She is the mother of Shelby M.C. Davis whose family funds the Davis UWC Scholars Program, currently supporting scholarships at 95 U.S. colleges and universities. Mrs. Davis' legacy lives on through the continuation of Projects for Peace, sparking initiatives for building prospects for peace in the world.
Davis Projects for Peace $10K grant recipients, Sarah Lebu (Kenya) and Maha Siddiqui (U.S.A.), presented highlights of their projects at the International House Fall Sunday Supper. Watch the video below to learn about their winning projects implemented during the summer of 2019.
International House Residents or UC Berkeley Undergraduates can apply for grants of $10,000 to conduct community service projects around the world. If you know a UC Berkeley student that would be a great candidate, applications are currently open. Learn more at ihouse.berkeley.edu/davis.
---
Chan'Cellore Makanjuola, a Graduate School of Journalism student with a focus on filmmaking, serves as our new Social Media Ambassador. Her videos, I-House Experience and I-House Gratitude, capture the magic that continues to make International House a prime residence for UC Berkeley students.
Look for her posts on our Instagram and Facebook pages, and stay tuned for more rich content from our resident reporter!
---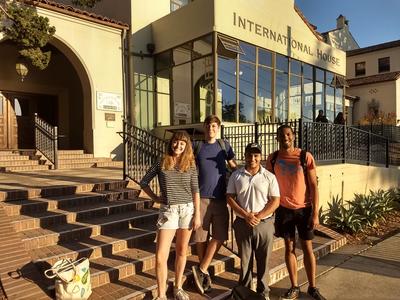 Benny Corona is currently pursuing a master's degree at UC Berkeley's Goldman School of Public Policy. In the blog post, The World Is My Family, Benny shares his perspective-changing experience living at International House. His post made the top headline of the latest Graduate Division email newsletter!
---
From All Corners Podcast Episode 3: Hong Kong Meets Mainland China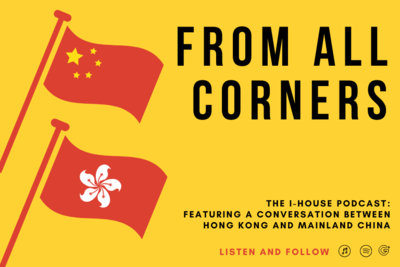 From the I-House podcast series comes a rare conversation between residents from Hong Kong and Mainland China. Be sure to tune in for a candid discussion on civil unrest, the virulence of information echo chambers, and the hard work of building bridges across people in conflict.
You can find From All Corners on Apple Podcast, Google Podcast, or  Spotify. Please subscribe or follow so you don't miss out on any future speakers. Visit our webpage to listen to previous episodes.
I-House is most grateful to all who have participated in our Annual Appeal or otherwise made a recent gift. If you haven't yet had a chance, please consider donating via the online version of our Annual Appeal.
On behalf of all of our residents, we thank you for staying connected to International House Berkeley and wish you all the best during this holiday season!
Sincerely,
Best regards from Berkeley,
I-House Philanthropy, Alumni Relations & Communications Team
International House at UC Berkeley
(510) 642-4128 | ihalumni@berkeley.edu